Dance classes for elementary school
ALL CHILDREN OF KINDERGARTEN AGE THAT ARE INTERESTED INDANCE, DRAMA, CREATIVE AND FUN WORKSHOPS CAN JOINTHE URAGAN'sMiNicLuBDidS. OUR EXPERIENCED ANIMATORS AND LEADERSENTERTAIN THE CHILDREN AND WITH APEDAGOGICAL PLAN AND PROGRAM CREATE EDUCATIONAL WORKSHOPS IN WHICH EVERY CHILD FEELS AMUSED. WE PASSED ON THE LONG EXPERIENCE IN CHILDREN'S TOURIST ANIMATION AND DANCE KNOWLEDGE OF THEACHERS IN A FUN AND EDUCATIVE PROGRAM FOR THE YOUNGEST.
1. HOLLWOOD PROGRAM
DANCE-DRAMA WORKSHOPS WITH THE JAZZ AND CABARET DANCE STYLES. ENPHASIS ON DANCE TECHNIQUES AND CREATION OF CHOREOGRAPHIES OF A DETERMINED SUMBJECT WITH GERMAN LANGUAGE.
2. FAIRYTALE PROGRAM
DANCE-DRAMA WORKSHOPS WITH THE FAIRY TALE THEME IN CREATING OF DANCE SHOWS THROUGHT TECHNIQUES OF MODERN DANCE STYLES - BALET, JAZZ, CONTEMPORARY DANCE; WITH ITALIAN LANGUAGE.
3. MTV PROGRAM
DANCE WORKSHOPS ON MODERN MTV MUSIC THROUGHTHIP HOP AND MTV JAZZDANCE STYLE FOR CHILDREN, WITH ENGLISH LANGUAGE.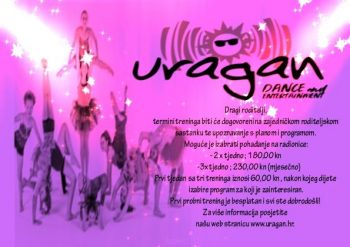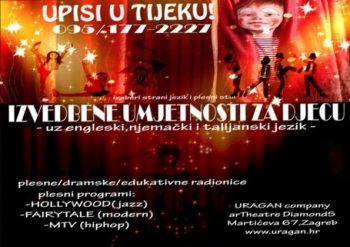 Dear parents, did you know…?
Jazz dance is based on a ballet technique that is complemented by more relaxed dance elements, ie freer movements. The ballet has a more rigid shape, while in jazz there is a higher level of style relaxation. Modernmusic hitsfor children greatly affect the child's interest in dancing.