ALL CHILDREN OF KINDERGARTEN AGE THAT ARE INTERESTED IN DANCE, DRAMA, CREATIVE AND FUN WORKSHOPS CAN JOIN THE URAGAN's MiNi cLuB DidS. OUR EXPERIENCED ANIMATORS AND LEADERS ENTERTAIN THE CHILDREN AND WITH A PEDAGOGICAL PLAN AND PROGRAM CREATE EDUCATIONAL WORKSHOPS IN WHICH EVERY CHILD FEELS AMUSED. WE PASSED ON THE LONG EXPERIENCE IN CHILDREN'S TOURIST ANIMATION AND DANCE KNOWLEDGE OF THEACHERS IN A FUN AND EDUCATIVE PROGRAM FOR THE YOUNGEST.

In working with preschoolers, the most important thing is the relaxed and unworried approach about the results: the language lesson is planned in advance only partially and it is adaptable, always including a game that carries the 'material', and it is complemented by a song, cartoon or game.

PROGRAM:
1. MODERN DANCE (with English language)
The dance workshops for the youngest age are combinations of several modern dance styles such as ballet, rhythmic, jazz dance, musical and hip hop. It is certainly interesting to combine styles to get the youngest acquainted with several styles until they decide which is the most interesting to them. By going to an older group (after enrolling in elementary school), they choose a dance style in which they will gain further progress.

On classes, children practice their motoric skills, adaptation to the environment, sense of spatial orientation, body coordination, musicality and work on the healthy development of their muscles and the whole body.

Through dance and games, the teacher combines the Croatian and English language so that children can learn the terminology of a foreign language that is not available in school learning. It is certainly interesting to learn English through dance for children who will continue to do dance at an older age.
2. MUSIC PARTY FOR CHILDREN
Workshop that is always at the end, after a dance or drama class. A children's music party or better known as 'Mini disco' is the most interesting child activity. At the class, children with animators dance on children's choreographies at well-known children's modern songs. Jumping and socializing is always the best form of ending before dinner and sleep. Getting to know the many kids fun-educational games, socializing and making new acquaintances, physical activity, singing, dancing and fun are the main goals of our children's music party.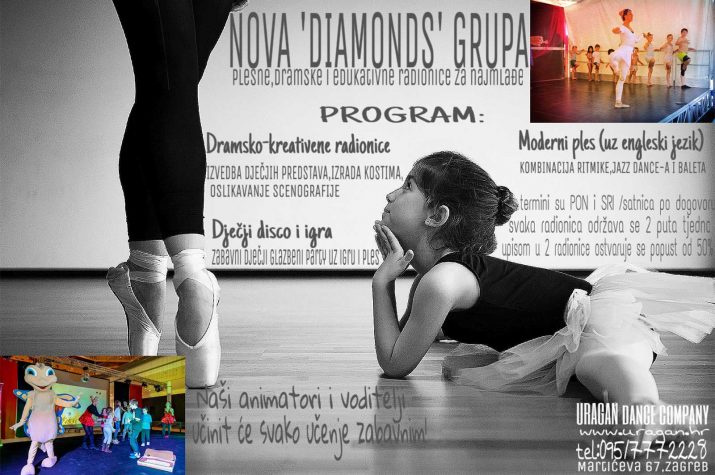 Dear parents, did you know…?
hildren who are regularly engaged in dance, have significant progress in body condition and health. Regular dance activity improves the child's flexibility, range of movement, physical strength and endurance, and repetitive dance movements improve the muscle tone, correct bad posture, improve balance and coordination, and overall health of the cardiovascular system. Dance is an aerobic exercise form.