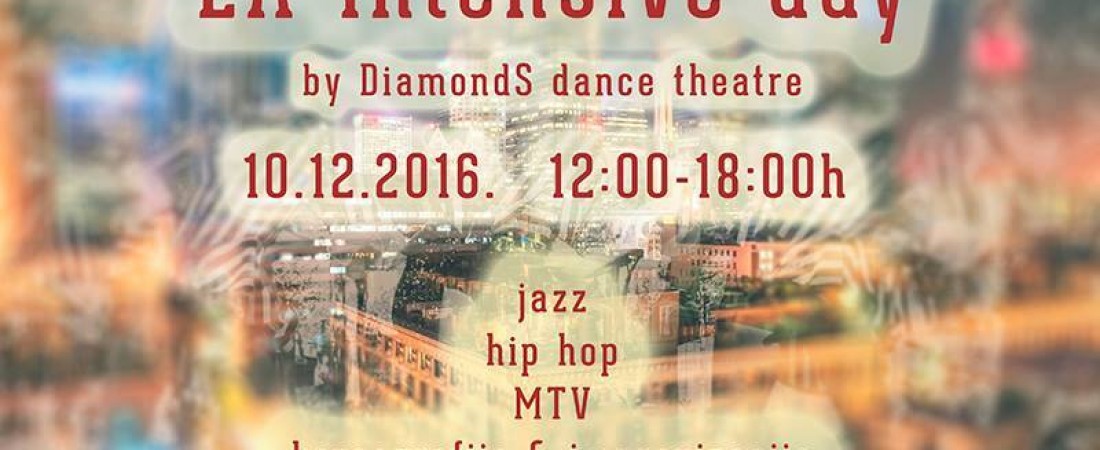 After the last successful weekend of intensive program, we return in a somehow different light.
L.A. intensive day is a one-day intensive related to urban dance styles in touch with the most popular dances on the urban scene.
Under the guidance of the DiamondS ensemble, participants have the opportunity to pass through styles and learn parts of their repertoire.
SCHEDULE:
12:00 – 01:00 pm – pump & stretch
01:00 – 02:15 pm – jazz
02:30 – 03:30 pm – hip hop
03:30 – 04:30 pm – MTV
04:45 – 06:00 pm – choreography and improvisation
If you want, you can be considered as a potential dancer of the Company or you can simply come to have fun and dance.
The program is intended to female dancers, but the guys are welcomed, too.
The pay fee is 80,00kn per dancer, but of course there are also our Christmas discounts.
Registration of 3 dancers as a group – the 4th is for free!
Registration of 2 dancers together – the 3rd has half price!
TOMBOLA – at the end of the workshop we will draw the names of the participants and the lucky one wins the next intensive for free!
And one INTERESTING reward – click 'going' on the event and post your dance picture. The picture with most likes wins a free workshop for yourself plus one.
Sign in via mail: koreograf@diamonds.hr
See you on Saturday at 12.00h at Martićeva 67 (Kvatrić), Zagreb.